CASE OF THE MONTH: December 2021
Superior scotoma and flashes in a young myope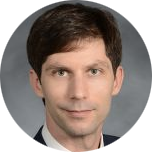 37 year-old female presents with history of six weeks of a "spot" in her superotemporal visual field with flashes in the right eye
At presentation, she has been asymptomatic for one week
History:
Past medical history: Hashimoto's disease, shingles (fall 2020)
Past ocular history: myopic LASIK (2010)
Social history: Never smoker
Family history: None
Exam:
Visual acuity: 20/20-1 OU
IOP: 15, 14
Pupils: No RAPD
Anterior segment: Unremarkable OU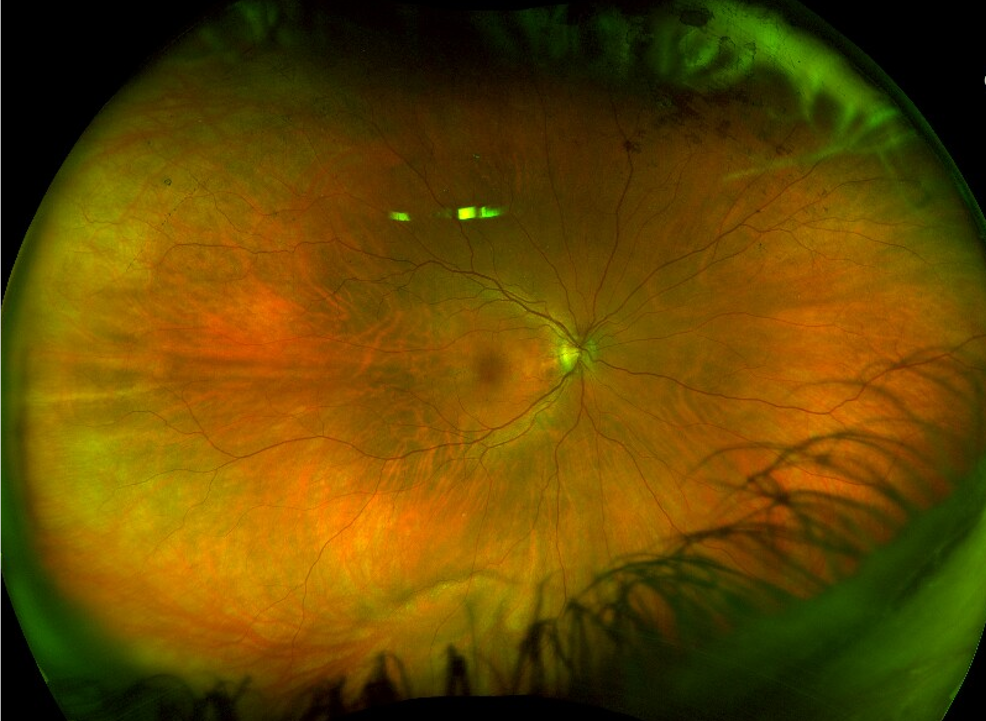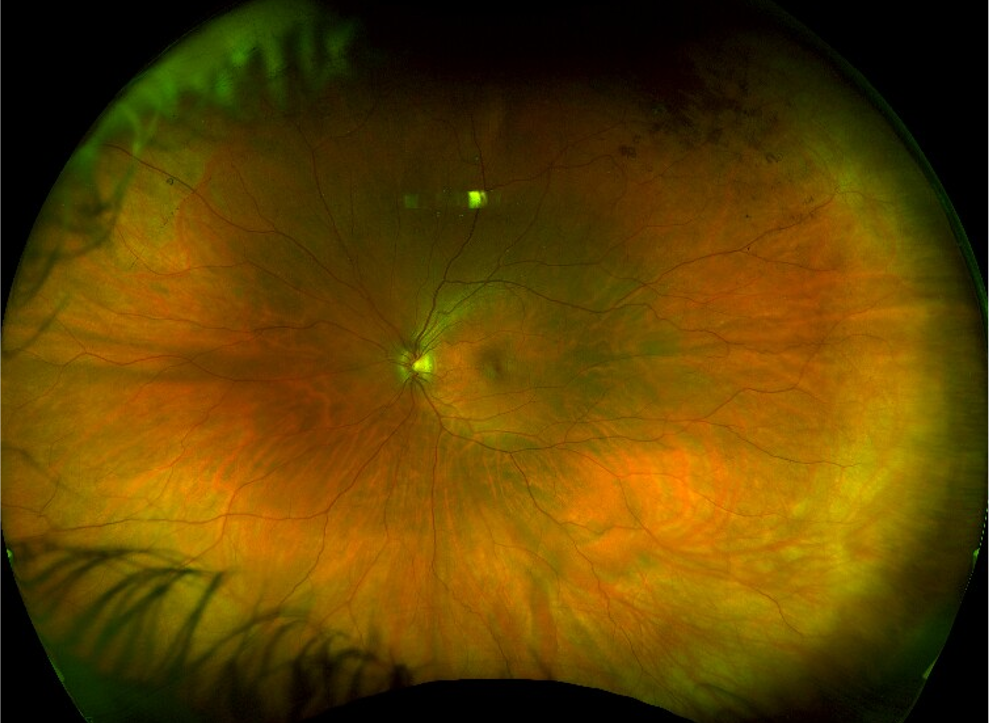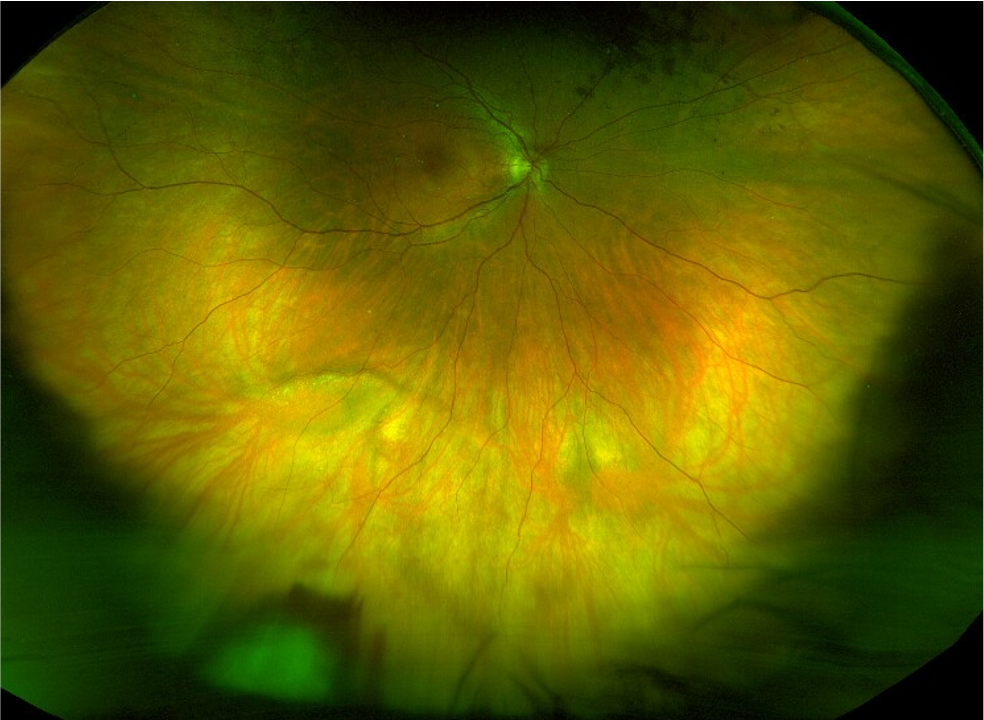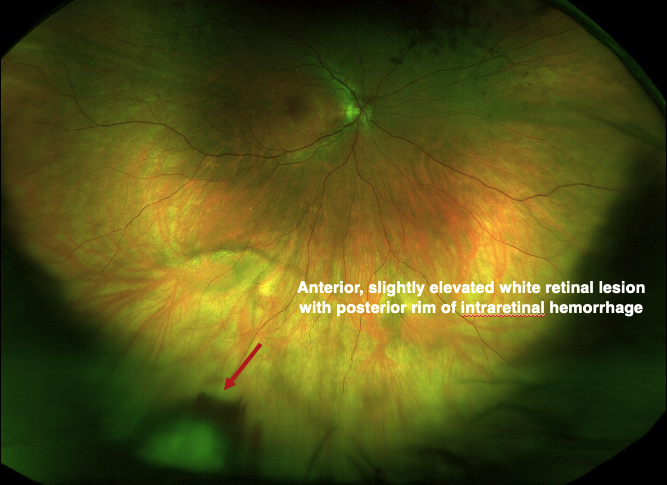 Differential Diagnosis:
White retinal lesion
Retinal necrosis

History of Zoster in 2020
No current lesions
No other systemic symptoms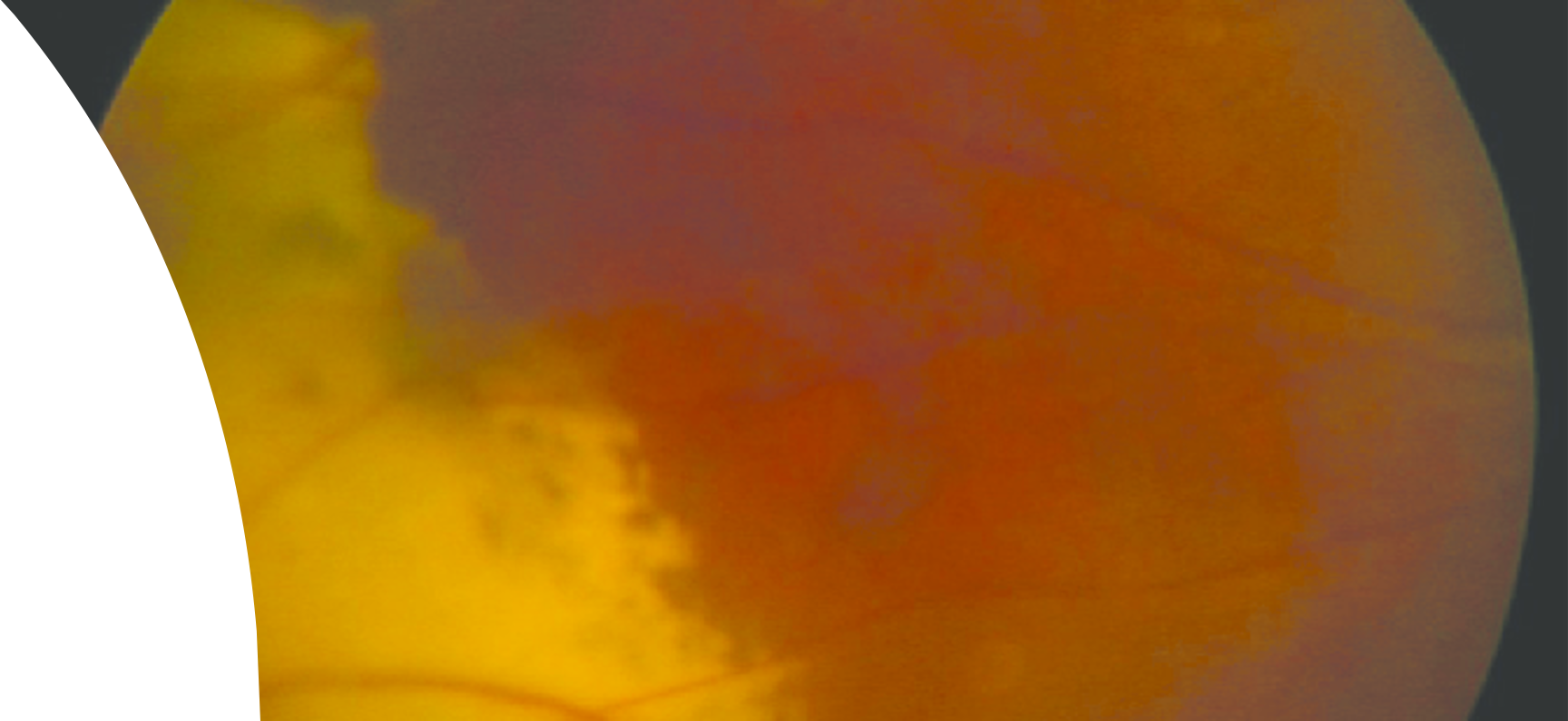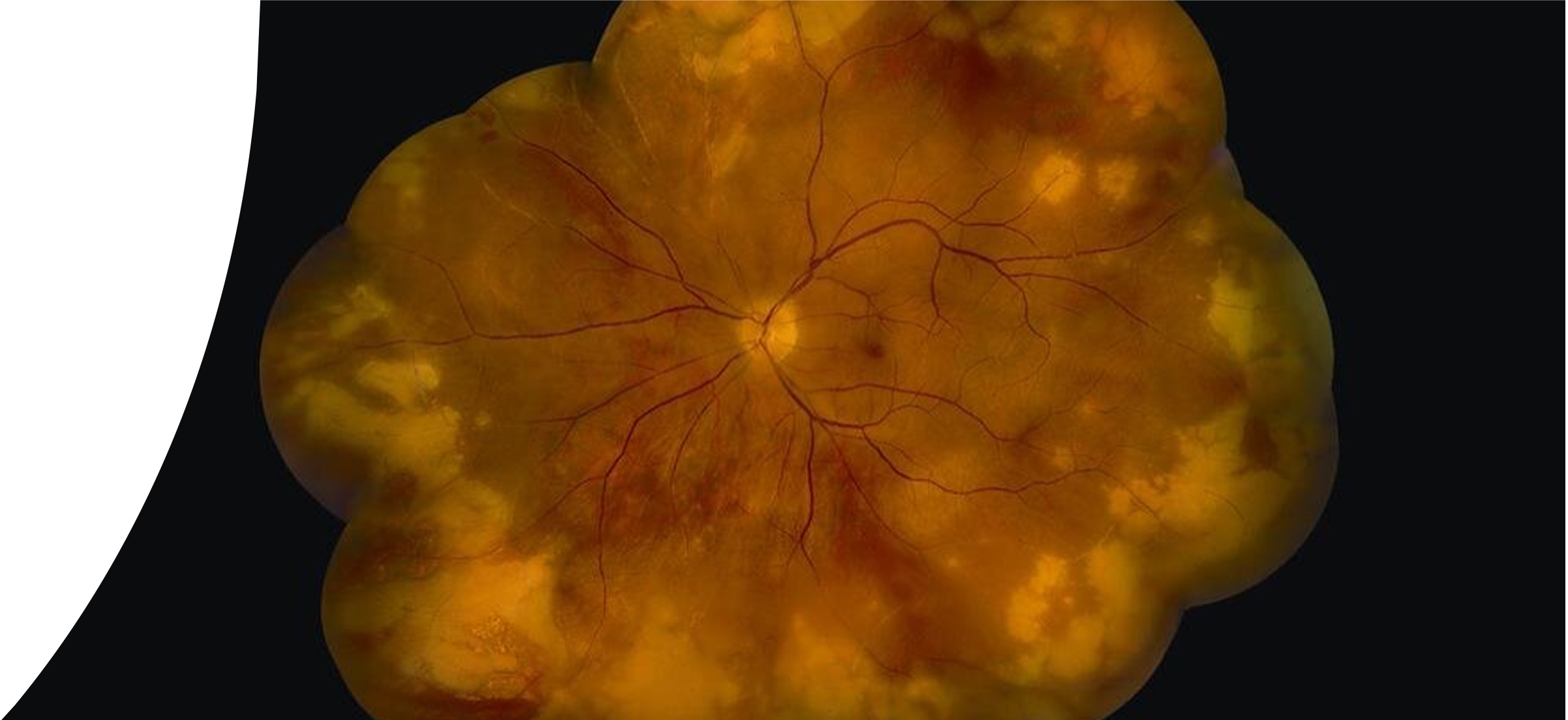 Primary vitreoretinal lymphoma

Denies fevers, chills, weight loss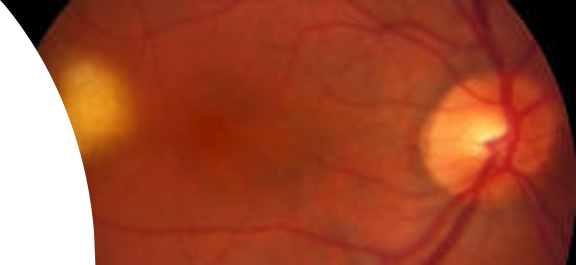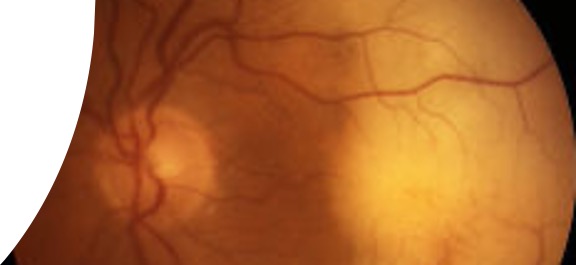 Infectious/inflammatory lesions

Tuberculoma

No risk factors, no relevant travel history
Denies systemic symptoms

Sarcoid granuloma

Denies related systemic symptoms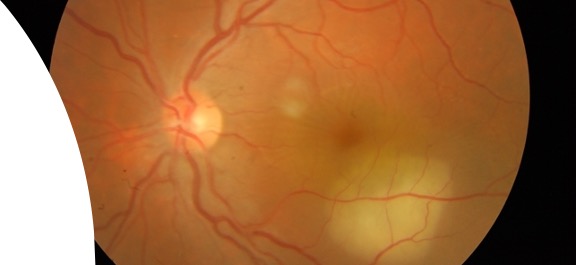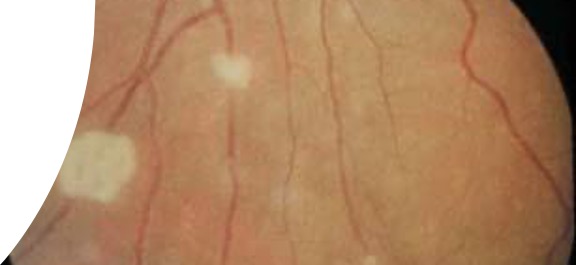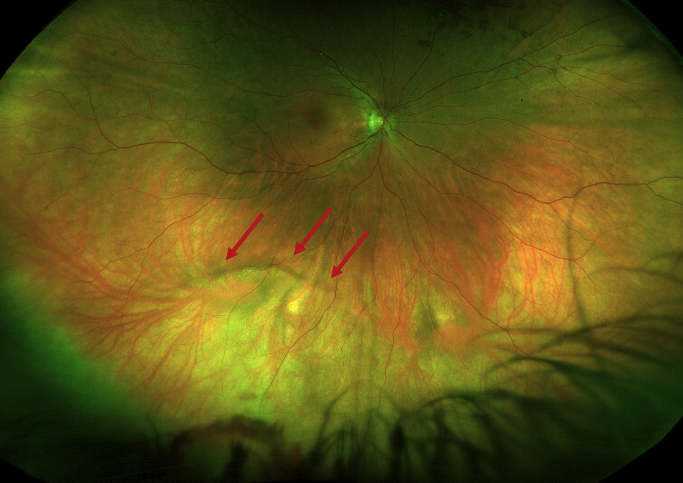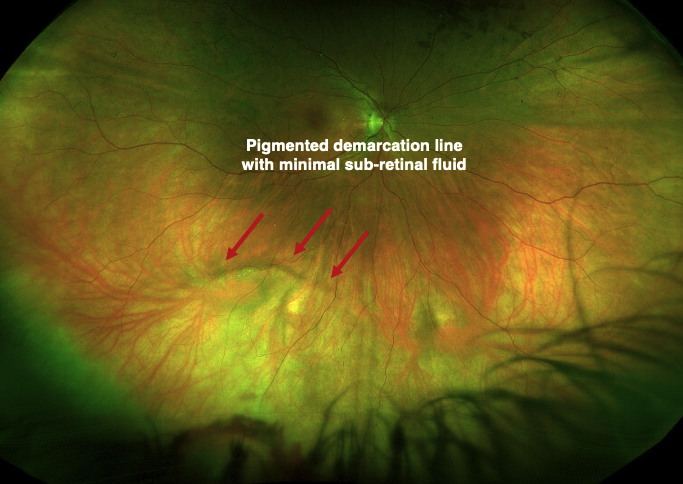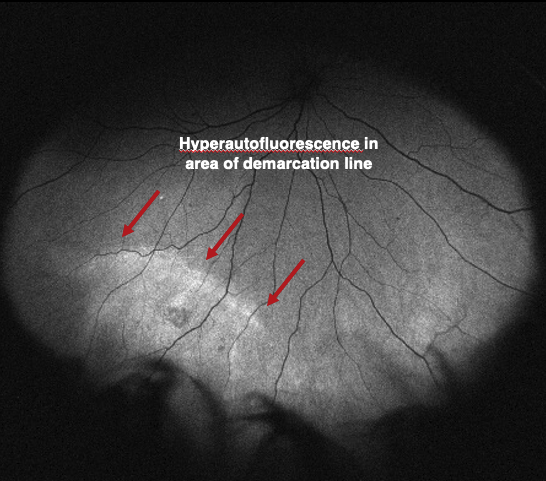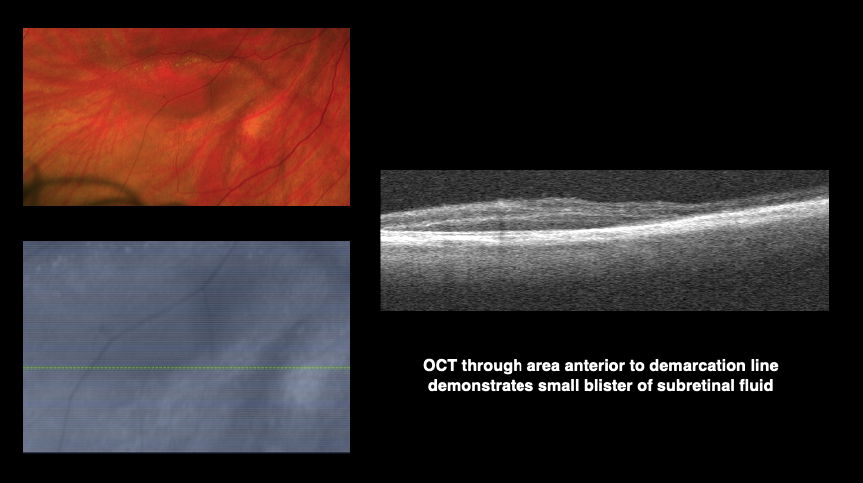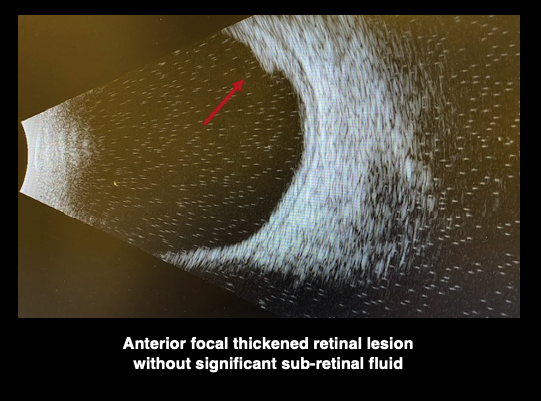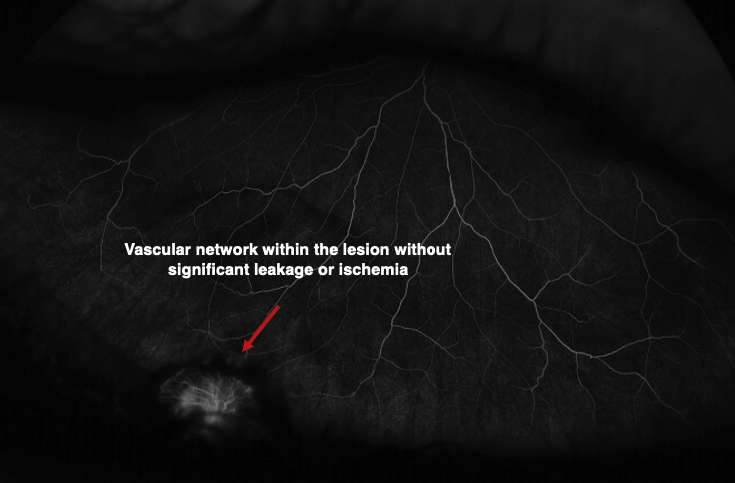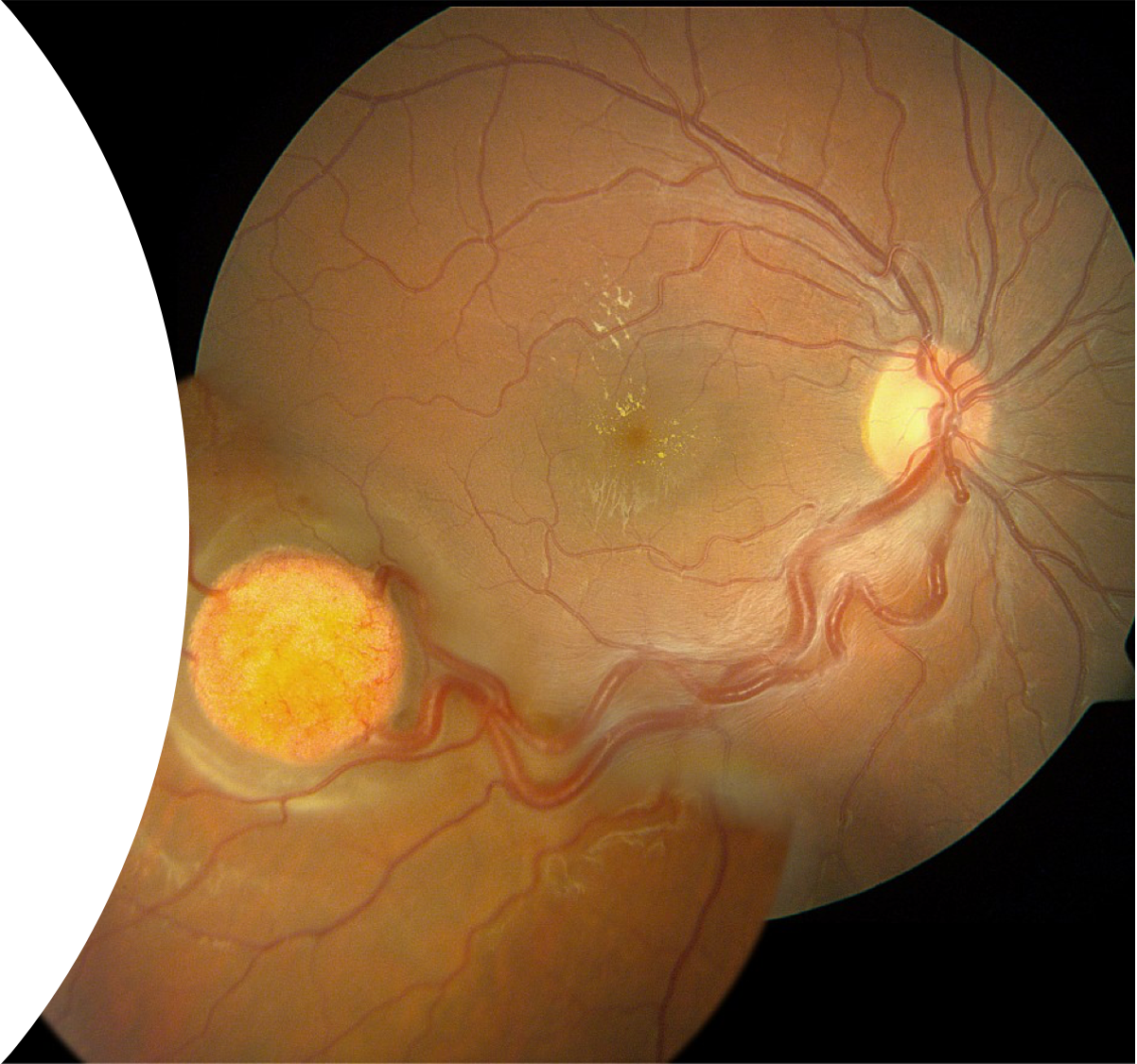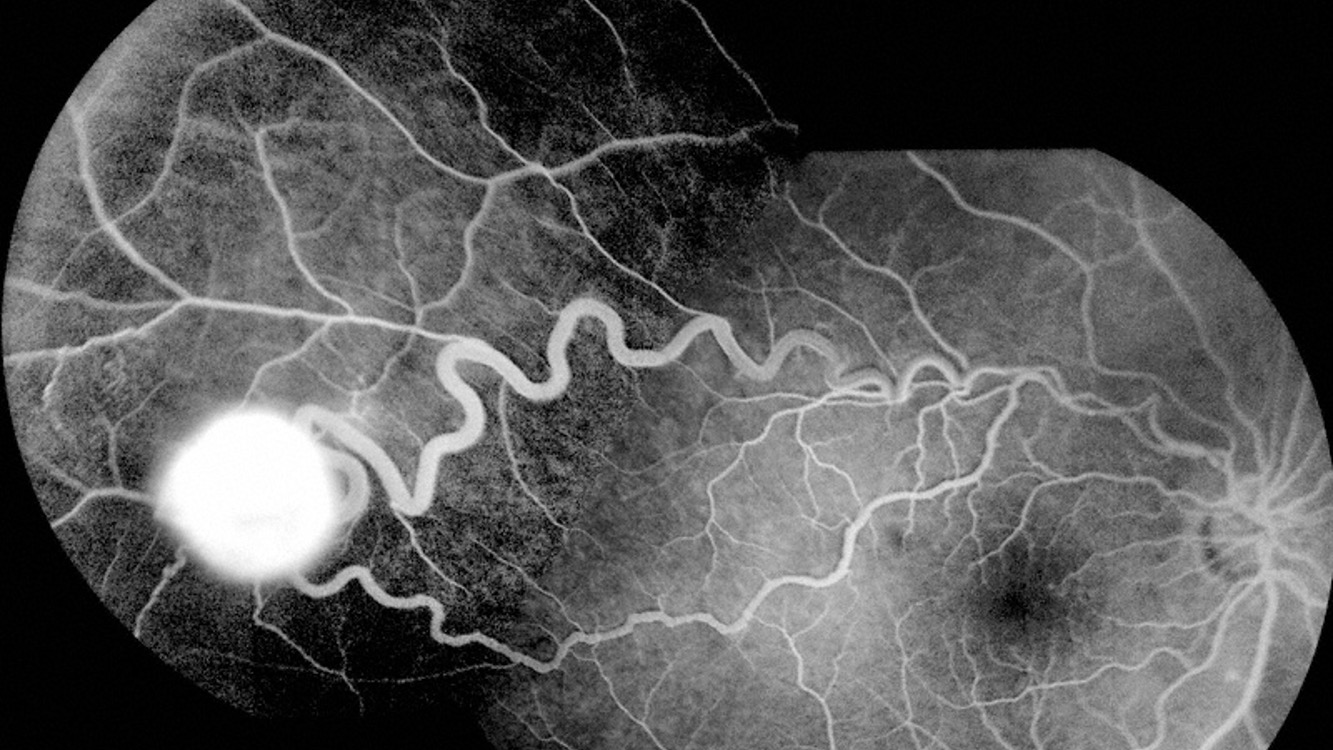 Retinal capillary hemangioma

Von Hippel-Lindau

No family history
No systemic associations
Absence of markedly dilated and tortuous feeder vessels
Lacks characteristic angiographic appearance of marked hyperfluroescence of entire tumor

Amelanotic melanoma

Choroidal

B-scan low and decreasing internal reflectivity with choroidal shadowing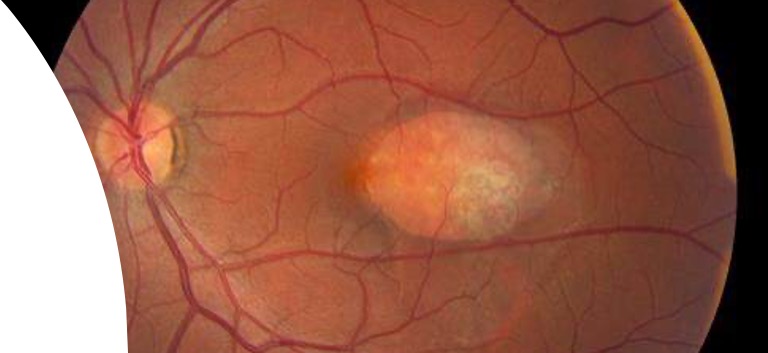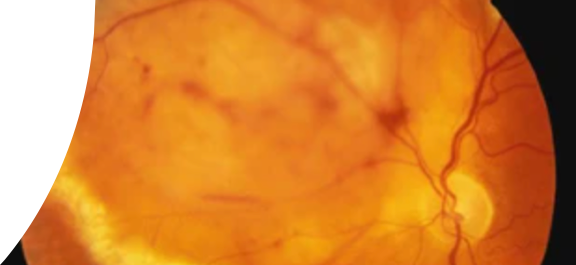 Peripheral exudative hemorrhagic chorioretinopathy

Associated with large subretinal hemorrhage and exudate
Lack telangiectatic feeder vessels
Older patients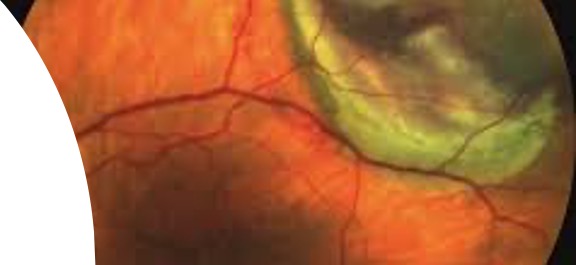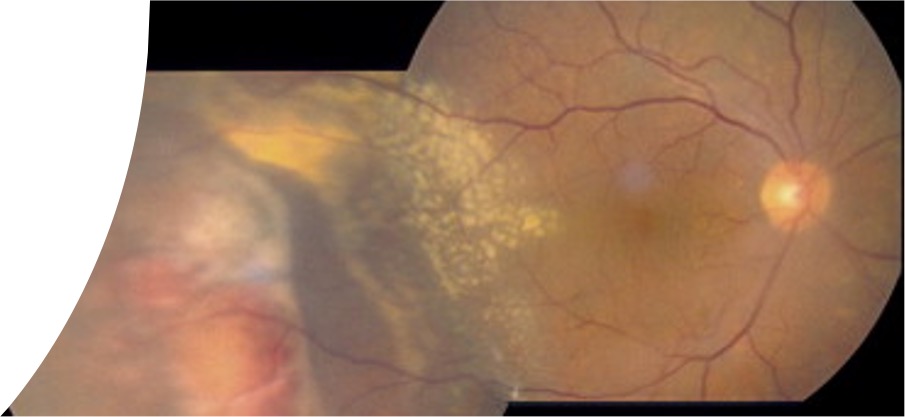 Diagnosis:
Retinal Vasoproliferative Tumor (VPT) with (receding) associated exudative retinal detachment
Uncommon, benign, yellow-pink, dome-shaped retinal tumors with an overlying network of fine, telangiectatic vessels
Primarily located inferotemporally or inferiorly in the retina
May be isolated (primary) or associated with underlying ocular condition (secondary)
Associated exudation, macular edema, retinal detachments, and epiretinal membranes can result in decreased vision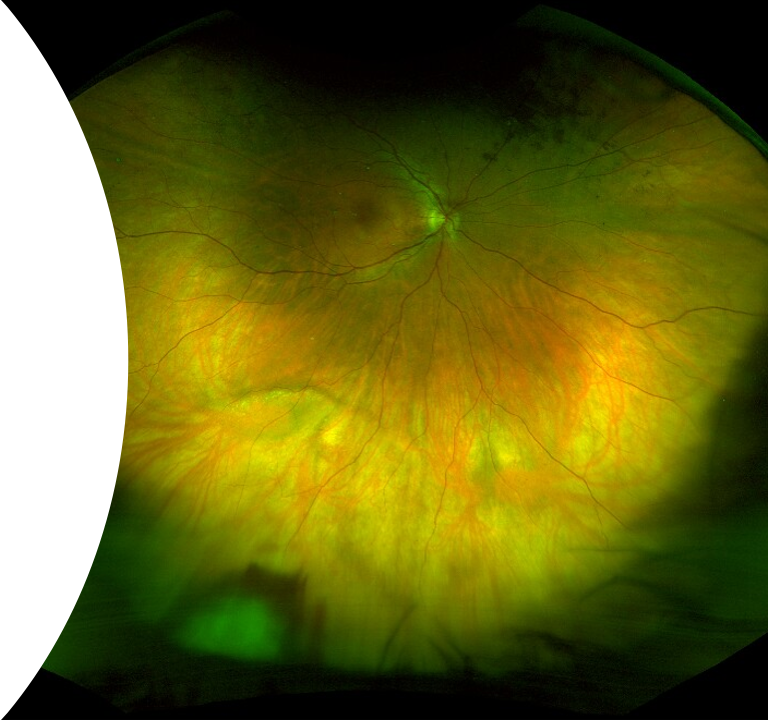 Treatment Modalities:
Observation

Appropriate for small, peripheral tumors that do not compromise vision

Laser photocoagulation

Useful for small tumors, usually as complement to other modalities

Trans-scleral cryotherapy

May induce tumor regression
Adverse effects include macular edema, retinal detachment

Photodynamic therapy/Transpupillary thermotherapy

Useful in inducing regression for tumors of moderate thickness

Brachytherapy

Indicated for large lesions and those associated with retinal detachment
Adverse effects include dry eye, cataract, optic neuropathy/retinopathy, neovascular glaucoma

Surgical resection

Indicated when tumors fail to respond to cryotherapy or in cases with persistent vitreous hemorrhage

Intravitreal anti-VEGF
Associated with temporary reduction in tumor thickness but have limited efficacy as long-term monotherapy
Back to our case:
Patient offered: observation, cryotherapy, trans-pupillary thermotherapy
Plan: Observation, avoid blood thinners and vigorous activity
Five months later: Heme resolved, lesion inactive without recurrent exudation (and resolved SRF), observed
References:
Anastassiou G, Bornfeld N, Schueler AO, et al. Ruthenium-106 plaque brachytherapy for symptomatic vasoproliferative tumours of the retina. Br J Ophthalmol 2006;90:447–450.
Blasi MA, Scupola A, Tiberti AC, et al. Photodynamic therapy for vasoproliferative retinal tumors. Retina 2006;26:404–409.
Brockmann C, Rehak M, Heufelder J, et al. Predictors of treatment response of vasoproliferative retinal tumors to ruthenium-106 brachytherapy. Retina 2016;36:2384–2390.
Chan RPS, Lai TYY. Photodynamic therapy with verteporfin for vasoproliferative tumour of the retina. Acta Ophthalmol 2010;88:711–712.
Cohen VML, Shields CL, Demirci H, Shields JA. Iodine I 125 plaque radiotherapy for vasoproliferative tumors of the retina in 30 eyes. Arch Ophthalmol 2008;126:1245–1251.
Collaer N, James C. Vasoproliferative tumor of the retina in association with spontaneously reattached rhegmatogenous retinal detachment. Retin Cases Br Rep 2008;2:278–279.
Damato B. Vasoproliferative retinal tumour B. Br J Ophthalmol 2006;90:399–400.
Fujiya A, Noda K, Yoshida S, et al. Increased vascular endothelial growth factor level in the subretinal fluid of eye with vasoproliferative retinal tumors. Retin Cases Br Reports 2015;9:154–156.
Garcia-Arumi J, Distefano LN, Fonollosa A, et al. Management of Vision-Threatening Complications of Vasoproliferative Tumors of the Retina. Ophthalmic Res 2015;54:34–40.
Grossniklaus HE, Lenis TL, Jakobiec FA. Retinal Reactive Astrocytic Tumor (Focal Nodular Gliosis): The Entity Also Known as Vasoproliferative Tumor. Ocul Oncol Pathol 2017;3:161–163.
Heimann H, Jmor F, Damato B. Imaging of retinal and choroidal vascular tumours. Eye 2013;27:208–216.
Henkind P, Morgan G. Peripheral Retinal Angioma with Exudative Retinopathy In Adults (Coats's Lesion). Brit J Ophthal 1966;50:2–12.
Hiscott P, Mudhar H. Is vasoproliferative tumour (reactive retinal glioangiosis) part of the spectrum of proliferative vitreoretinopathy? Eye 2009;23:1851–1858.
Huang Y-M, Chen S-J. Clinical characters and treatments of retinal vasoproliferative tumors. Taiwan J Ophthalmol 2016;6:85–88.
Hudson LE, Mendoza PR, Yan J, Grossniklaus HE. Reactive Retinal Astrocytic Tumor (Focal Nodular Gliosis): A Case Report. Ocul Oncol Pathol 2017;3:1–7.
Hussain RN, Jmor F, Damato B, Heimann H. Verteporfin Photodynamic Therapy for the Treatment of Retinal Vasoproliferative Tumors. Ophthalmology 2015;122:2361–2363.
Jakobiec FA, Thanos A, Stagner AM, et al. So-called massive retinal gliosis: A critical review and reappraisal. Surv Ophthalmol 2016;61:339–356.
Krivosic V, Massin P, Desjardins L, et al. Management of idiopathic retinal vasoproliferative tumors by slit-lamp laser or endolaser photocoagulation. Am J Ophthalmol 2014;158:154–161.
Marback EF, Guerra RL, Maia Junior O de O, Marback RL. Retinal vasoproliferative tumor. Arq Bras Oftalmol 2013;76:200–203.
Nickerson SJ, Al-Dahmash SA, Shields CL, Shields JA. Retinal vasoproliferative tumor with total retinal detachment managed with plaque radiotherapy. Oman J Ophthalmol 2012;5:53–54.
Nomura Y, Tamaki Y, Tsuji H, et al. Transpupillary thermotherapy for vasoproliferative retinal tumor. Retin Cases Br Reports 2009;3:358–360.
Para Prieto M, Saornil MA, de Frutos Baraja JM, et al. Episcleral brachytherapy as an effective alternative in vasoproliferative tumors. Int J Ophthalmol 2018;11:2017–2020.
Poole Perry LJ, Jakobiec FA, Zakka FR, et al. Reactive retinal astrocytic tumors (so-called vasoproliferative tumors): histopathologic, immunohistochemical, and genetic studies of four cases. Am J Ophthalmol 2013;155:593–608.
Rennie IG. Retinal vasoproliferative tumours. Eye 2010;24:468–471.
Rogers C, Damato B, Kumar I, Heimann H. Intravitreal bevacizumab in the treatment of vasoproliferative retinal tumours. Eye 2014;28:968–973.
Saito W, Kase S, Fujiya A, et al. Expression of vascular endothelial growth factor and intravitreal anti-vegf therapy with bevacizumab in vasoproliferative retinal tumors. Retina 2013;33:1959–1967.
Saldanha MJ, Edrich C. Treatment of vasoproliferative tumors with photodynamic therapy. Ophthalmic Surg Lasers Imaging 2008;39:143–145.
Singh AD, Soto H, Bellerive C, Biscotti C V. Reactive Retinal Astrocytic Tumor (Focal Nodular Gliosis): Report of the Clinical Spectrum of 3 Cases. Ocul Oncol Pathol 2017;3:235–239.
Shankar P, Bradshaw SE, Ang A, et al. Vascularised epiretinal membrane associated with vasoproliferative tumour [5]. Eye 2007;21:1003–1004.
Shields CL, Shields JA, Barrett J, Potter P De. Vasoproliferative Tumors of the Ocular Fundus. Arch Ophthalmol 1995;113:615–623.
Shields CL, Kaliki S, Al-Dahmash S, et al. Retinal vasoproliferative tumors: Comparative clinical features of primary vs secondary tumors in 334 cases. JAMA Ophthalmol 2013;131:328–334.
Shields JA, Reichstein D, Mashayekhi A, Shields CL. Retinal vasoproliferative tumors in ocular conditions of childhood. J AAPOS 2012;16:6–9.
Shields JA, Decker WL, Sanborn GE, et al. Presumed Acquired Retinal Hemangiomas. Ophthalmology 1983;90:1292–1300.
Shields JA, Shields CL. Reactive retinal astrocytic tumors (so-called vasoproliferative tumors): Histopathologic, immunohistochemical, and genetic studies of four cases. Am J Ophthalmol 2013;156:202–203.
Smith J, Steel D. The surgical management of vasoproliferative tumours. Ophthalmologica 2011;226 Suppl:42–45.
Temblador-Barba I, Delgado-Alonso EM, Toribio-García M, et al. Update on the management of vasoproliferative tumour. Arch Soc Esp Oftalmol 2018;93:350–353.
Wang Q, Day S, Nixon PA, Wong RW. Combined rhegmatogenous and traction detachment associated with vasoproliferative tumor secondary to sickle cell retinopathy. Am J Ophthalmol Case Rep 2016;4:4–6.
Yeh S, Wilson DJ. Pars plana vitrectomy and endoresection of a retinal vasoproliferative tumor. Arch Ophthalmol 2010;128:1196–1199.
Zheng B, Chen Y, Chen L, et al. Comparative Study on the Efficacy and Safety of Tumor Resection in Vitrectomy for Retinal Vasoproliferative Tumors. J Ophthalmol 2019;2019:7464123.