CASE OF THE MONTH: January 2022
White stuff in the retina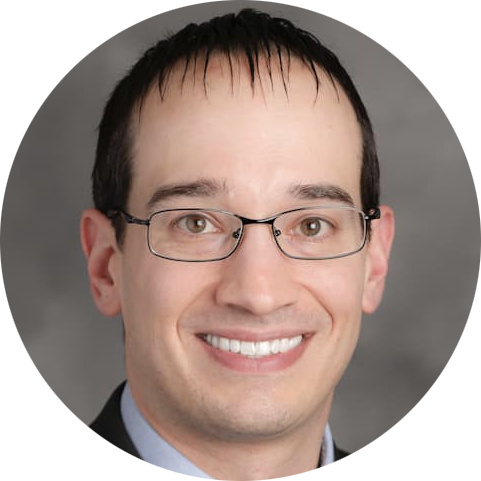 History:
HPI: 30 y/o woman s/p failed kidney transplant admitted for spiking a fever during dialysis session
Past Ocular History: None
Past Medical History: Nephrotic syndrome s/p kidney transplant x 2 (both failed)
Multiple prior infections including pseudomonas peritonitis and pneumonia
Currently immunosuppressed with tacrolimus and prednisone
Current anti-infectious agents include:
Active infection: Cefepime, Metronidazole
Prophylaxis: Bactrim, Valganciclovir
Sent to ICU and treated for sepsis
Reason for ophthalmology consultation: "Look for fungal or other manifestations of infection in the eye"
Patient has altered mental status but denies ocular complaints
Exam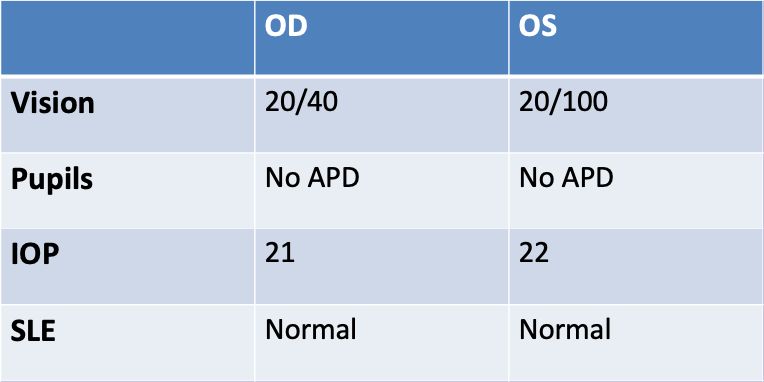 The case: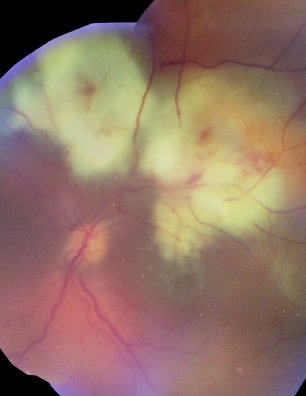 Differential Diagnosis: "white stuff" in the retina
Viral retinitis
Fungal
Bacterial
Ischemia
Inflammatory
Assessment and Plan
Intravitreal injection of foscarnet OS for presumed CMV retinitis
Anterior chamber paracentesis
Start IV ganciclovir
Clinical Course
Blood negative for CMV
Aqueous negative for CMV, HSV, VZV
Repeat exam 5 days post foscarnet injection reveals new exudative RD and subretinal hypopyon
New Diagnosis – Aspergillus Retinitis
The case for Aspergillus Retinitis
Sputum fungal culture + for Aspergillus
Respiratory culture + for Aspergillus
Fungitell (β-D-Glucan): 35,120 (off the charts)
Blood cultures negative during this hospitalization
CT chest and MR brain have lesions consistent with infectious process
Intravitreal voriconazole injection OS
IV voriconazole
Aspergillus retinitis
Epidemiology
2nd most common cause of fungal endophthalmitis after candida
Risk factors:

IV drug abuse
Immune deficiency (organ transplant patients)
Corticosteroid use

Riddell J et al. Medicine. 2002.

Pathogenesis

Hematogenous spread of infection to choroid
Proliferation of fungus in blood vessels promotes ischemia and necrosis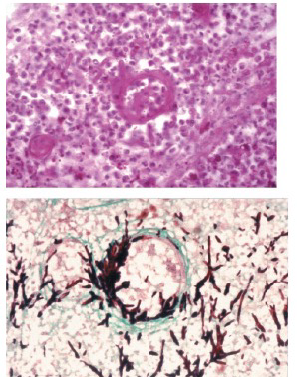 Rao N et al. Am J Ophthalmol. 2001
Clinical Manifestations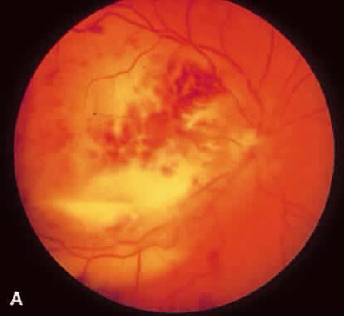 Weishaar PD et al. Ophthalmology. 1998
Making the diagnosis of aspergillus retinitis
Blood cultures and aqueous/vitreous cultures often negative for aspergillus
Appropriate clinical context

Immunosuppressed
Aspergillus elsewhere
Bodoia R et al. Retina. 1989
Treatment
No RCTs to guide choice/duration of therapy
Systemic therapy with:

Amphotericin B or Voriconazole

Intravitreal therapy with:

Amphotericin B or Voriconazole
Prognosis
8% of patients regained useful vision in one series (endophthalmitis + retinitis)
Poor initial vision predicts poor outcome
50% mortality
Riddell J et al. Medicine. 2002.
Clinical Course
Most recent repeat exam 12 days post intravitreal voriconazole shows improvement with resolved exudative detachment and smaller area of retinal whitening.
Was doing well systemically and transferred from ICU to floor
One day after the most recent eye exam, she developed acute mental status change and aphasia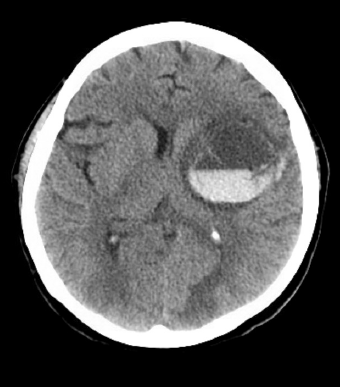 Transferred back to ICU
Underwent hemicraniectomy with partial clot evacuation
Neurologic status worsens with decerebrate posturing
Decision made to make her comfort measures and she passes away
Key Points
Retinal whitening in an immune compromised patient should raise concern for HSV/VZV/CMV
Aspergillus retinitis can look like CMV
Talk to Infectious Diseases and review systemic labs/imaging for help making diagnosis
Acknowledgements
Tatiana Deveney, MD
Devon Ghodasra, MD
Daniel Kaul, MD
Joseph Grubbs, MD
Tyson Kim, MD, PhD
Vaidehi Dedania, MD
Meti Munie, MD
Lev Prasov, MD, PhD
Jonathan Trobe, MD